The Fair 2012, sometimes called the Fall Fair, is a party which lasted from 3rd - 18th September. It was one of the best parties ever. There was a theme of countries around the world.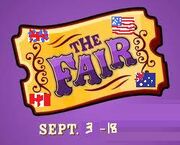 There was no mascots when it started but it will be one.
Items obtained by tickets
Everyone
Canada Poncho - 500 tickets
Rainbow Poncho - 600 tickets*
Cactus Necklace - 150 tickets*
Flags Of The World Banner - 500 tickets
Tallest Ice Cream Ever - 500 tickets
Member Only
Circus Staff - 200 tickets
Burger Vendor Apron - 300 tickets*
Circus Tent Igloo - 1500 tickets*
Hitler Moustache - 100 tickets**
Goat Beard - 100 tickets*
Goat Horns - 100 tickets
Goat Bodysuit - 300 tickets
*Arrived a week after the party started.
**Removed after email to CP Support about world war references.
Games
Puffle Paddle - Keep up the puffles by bouncing them on your paddle
Feed-A-Puffle
Puffle Shuffle - 3 puffles under hats are shuffled and you must find the correct colour
Spin To Win - Spin the coloured wheel to give you certain amounts of tickets or an extra spin
Memory Card Game - Find the cards which are pairs
Take-Off - Get A Plane To Take Off Correctly
Farmer Frenzy - Care For Animals
Planet Y - Use darts to hit a target on a moving rocket ship
Add more!