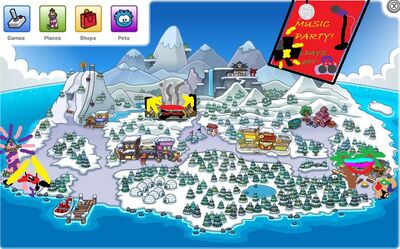 The Music Party is a party that lasted from October 16 to October 27. It replaced the Music Jam Festival 2013. The motto is, "Lights, Camera, Action!". This was the first time the new map was decorated. It was hosted by Cadence and the Penguin Band. The three main stages were at the Beach, Cove and Stadium. The Party Starts Now, Anchors Aweigh, Ghosts Just Wanna Dance and Cool in the Cold were performed at some rooms.
Decorations
This is a list of the main decor round the island.
The Stadium had big fire torches with smoke makers and huge floodlights. It was rock and roll.
The Beach had the lighthouse painted pink and purple to make it look glamourous and pop-style.
The Cove had two huge palm trees with cyan and hot pink streamers attaching them both. The water to swim in was covered with bamboo and a stage was there. It was reggae/carribean style music.
The Dock had the Music Maker 3000 and a giant dance floor with colored lights shining on you wherever you go.
The Dojo had bongo drums everywhere and bamboo pipes to play. It was Japanese music.
The Snow Forts was Battle of the Bands. It was Rock n' Roll vs Pop.
The Town had been transformed into a HUGE LARGE GIANT concert with Penguin Band and Cadence playing occasionally. The Coffee Shop was member only and was backstage at the party. Gift Shop had new clothes for the party.
The Plaza was based on singing and it had a huge microphone and the stage was showing a new play for the party. The Pizza Parlour had transformed to a fancy restaurant with jazz music.
The Ski Village had the orca-straw again.
The Ski Hill had fireworks in the shape of music notes.
The Iceberg was a huge disco party with balloons and lights.
The Mine Shack had a stage in front of the entrance to the mine, and it was closed off for the party.
Music