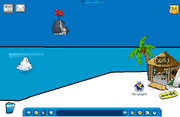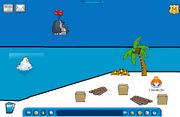 The Companion Island is a tropical island about 2 miles off the coast of Club Penguin Island. Every 15 minutes, you will see a Puffle Launch puffle bouncing off the piano. The Moon Festival is celebrated here. Many CP Island parties reach the Companion Island.
Trivia
A yellow puffle lives on this island, in a small house at the top of the island.

Click-Click lives in a cave under the island.